British solid natural bath stone inner fireplace hearth stone 820mmx400mmx50mm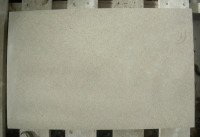 English solid Bath natural stone inner hearth stone
£100.00
Product code: back inner fireplace hearth
Beautiful natural inner stone hearth carved from English solid Bath stone, we are offering a one piece size at 820mm x 400mm x 50mm and is perfect for the Moonstone or the Peridot fireplace designs to sit inside your fireplace opening. If this size needs alterations then please contact us on 07976240893 or email simplicityfireplaces@gmail.com with your requirements for a personal quotation, please do not purchase from this listing if you require our made to measure service.
Any larger hearths than the size advertised will be sectional due to heat expansion and lifting.
Every fireplace hearth would be unique as the stone is locally sourced and as a natural material will contain some fossiling from the sea bed minerals and creatures and veining dating back to 145 million years ago.
If this hearth is purchased together with a fireplace from our range or 3 piece outer hearth and delivered at the same time to mainland England or Wales the delivery would be free, alternatively purchased by itself or with another inner hearth the haulage costs are £65.00
All our hearths and fireplaces are suitable for wood burning, multi fuel stoves, roaring open fireplace and gas or electric fires.