British solid Bath inner stone hearth 700mm x 400mm x 50mm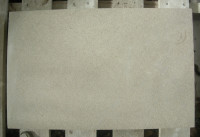 solid natural English Bath stone inner hearth - made to measure service available
£90.00
Product code: Inner back hearth solid natural stone hearths
Inner back hearth is the hearth stone which allows a fire basket or stove to sit upon the floor which sits inside your opening. We offer a standard size of 700mm wide x 400mm depth x 50mm height in one section. We are able to offer rmade to measure hearths, please contact us on 07976 240893 for more details and costings or by emailing simplicityfireplaces@gmail.com
ALL OUR HEARTHS AND FIRE SURROUNDS ARE SUITABLE FOR OPEN FIRES, WOODBURNERS, MULTI-FUEL STOVES AND GAS/ELECTRIC FIRE INSERTS.
For your information the stove must sit on a hearth of non-combustible material extending a minimum of 150mm (6") out from the stove at the sides and 300mm (12") in front.
Technically this 300mm distance can be reduced a little if the stove is not designed to be run with the door open, all our standard hearths have a 350mm depth into your room. Please see the latest Building regulations for up to date information.
All our hearths and fireplaces contain shells, veins, fossils etc this is the beauty of a natural material.
If delivered on its own or with other inner hearths with no other purchase such as outer hearths or a fire surround then the £65 haulage fee will be applied when purchased.
Delivery 3 weeks